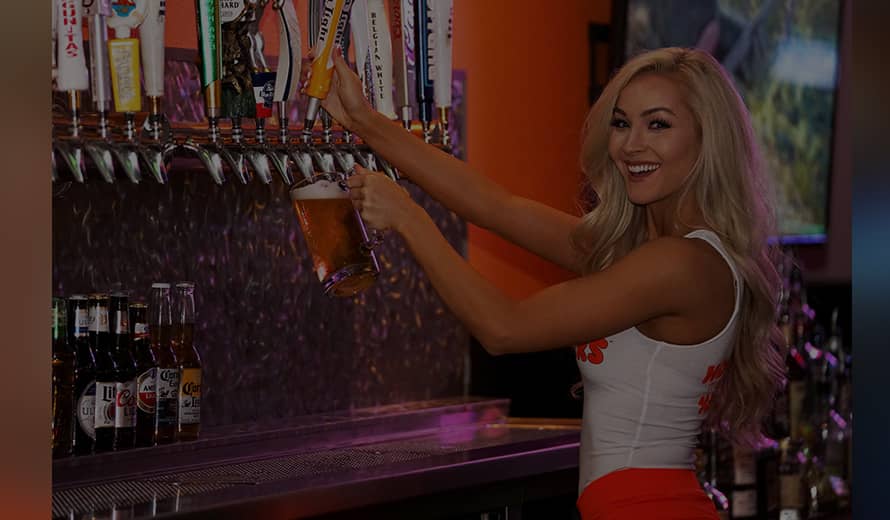 What It Takes
Whether you're interested in franchising or want to see a Hooters near you, everything you need to know is right here.
Get Started
Franchise Candidate Qualifications
Restaurant Experience
Candidates must have a minimum of five years of previous multi-unit restaurant experience, or have an operational partner that does.
Development Territory
Candidates must have the ability to develop a minimum of three (3) restaurants in the proposed development territory.
Terms
We offer a twenty year term with two ten year renewals.
Franchise Fees/Royalties
Franchise Fee: $75,000
Royalty: 5%
National Advertising: 2.5%
*International fees and royalties will vary by country.
Financial Qualifications
A minimum net worth of $2.5M and liquidity of $1.5M. These requirements are minimums and may be higher in certain markets.
Franchise Award Process
Our Franchise Award Process is thorough and intended to ensure that we select the most qualified candidates for the Hooters system, and that we are providing you all the appropriate information to ensure the Hooters franchise opportunity is the right one for you. Please contact us at 770-951-2040 if we may assist you at any step along the way.
Step 1

Complete and submit the Online Information Request

Once you submit the Online Request form, a member of our Franchising Team will contact you to discuss your interest, answer your initial questions and lay the foundation to get started. We will also provide you with more detailed information about the system, costs and benefits. After initial conversations, you will receive an application form which provides us with more detailed information about you and any partners that you may have.

The completion of this form imposes no obligation on your part or that of Hooters of America, LLC. It simply indicates your level of interest and helps us to facilitate meaningful communication.
Step 2

One on One Discussion with Market Development Director

Once we receive your completed application for a franchise the Market Development Director for the region will contact you for an in-depth discussion about the Hooters franchising opportunity. Following completion of this one on one discussion, the Market Development Director may request that you complete additional forms, provide additional documentation, and submit the franchise application fee so that we can continue your awarding process timely.
Step 3

Speak with Existing Franchisees

After learning more about the Hooters opportunity and systems, we strongly encourage you to reach out and have conversations with some of our existing franchisees to learn and discover more about our concept, our franchise support provided, and the key elements that drive success for our franchisees.
Step 4

Discovery Day

Once we have learned a great deal more about one another, we will invite you to our Corporate Headquarters for Hooters Discovery Day. This will be great opportunity for you to learn even more about the Hooters system and meet department leaders for Operations, Marketing, Franchise Development, Construction and Design, Legal and Finance.
Step 5

Development Committee Approval

After you have received all of the information you need to make a solid business decision and we receive all of the information we need from you in our franchise qualification process, your request to franchise will be reviewed for approval by our Franchise Review Board. Upon approval, you will be ready to sign your Franchise or Development Agreement and get started on your new endeavor!

The entire process, from our first conversation to the awarding and document execution of the franchise should take approximately 90 days.
If you're interested in a Hooters franchise, please call 770-951-2040 or fill out the form.
Online Request Form
See The Hooters Prototype
The Future is Now
Hooters restaurant design is appealing to a broad range of customers. The design offers more contemporary seating and interior finishes as well as a stronger focus on the bar and television experience, all while maintaining that fun, exciting atmosphere where customers can get a great meal and enjoy a beer while watching their favorite sporting event.
What Makes a Great Hooters Site?
Hooters are very adaptable to a variety of location types, in many different markets. Here are some key real estate metrics for domestic locations (international metrics may vary):
Trade Area Demographics
Minimum of 100,000 population in the immediate trade area surrounding the site
Daytime population of at least 15,000 in the immediate trade area
Median income of $50,000 and higher in the trade area
Site Requirements
Lot size of 1.5 acres or larger unless parking can be shared with adjoining lots
Minimum building size of 5,000 square feet
Minimum of 80 parking stalls
Superior visibility of the building and signage elements
Easy accessibility into location, with a preference of two curb cuts at a signalized corner
Traffic count of at least 30,000 VPD
Superior strategic positioning of the site for the trade area
Strong retail synergy within ½ mile of the location
Late night activity drivers within one mile of the site
Ability to achieve Hooters brand signage and exterior elements
If you're interested in submitting a site to Hooters, please call 770-951-2040 or click here to fill out the Site Submittal Form.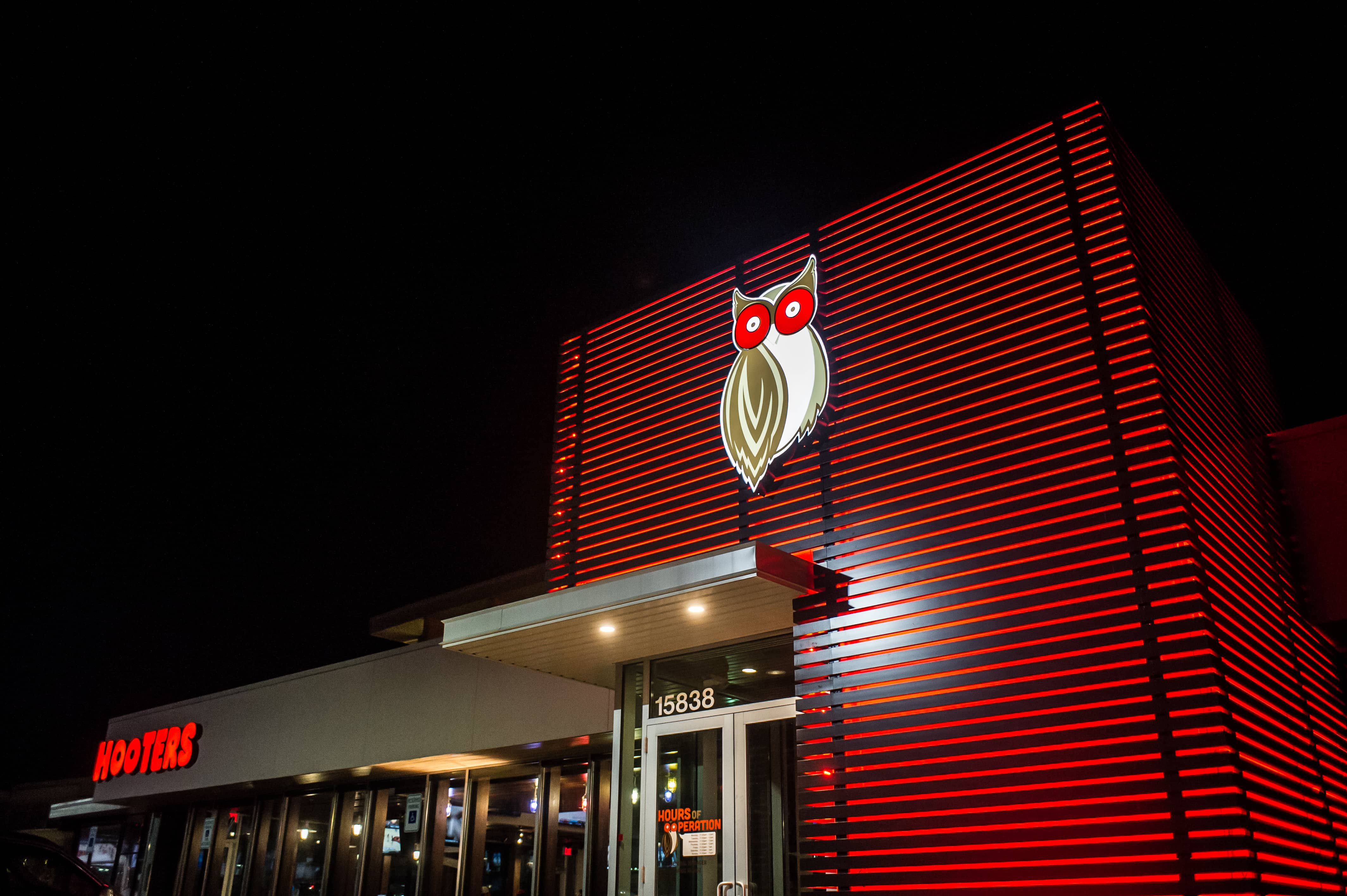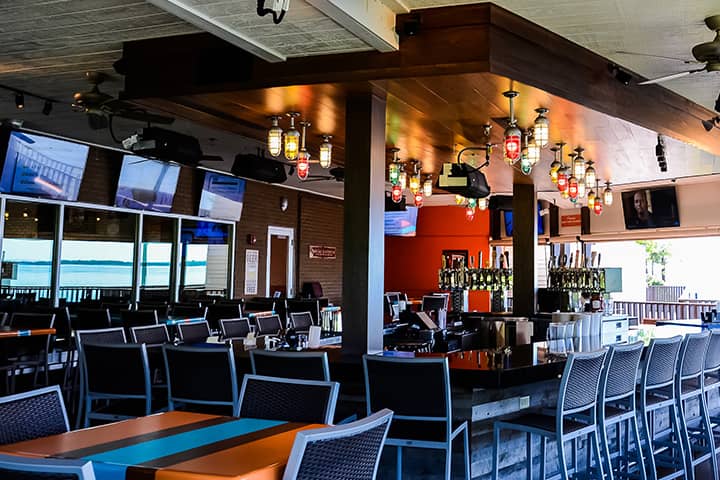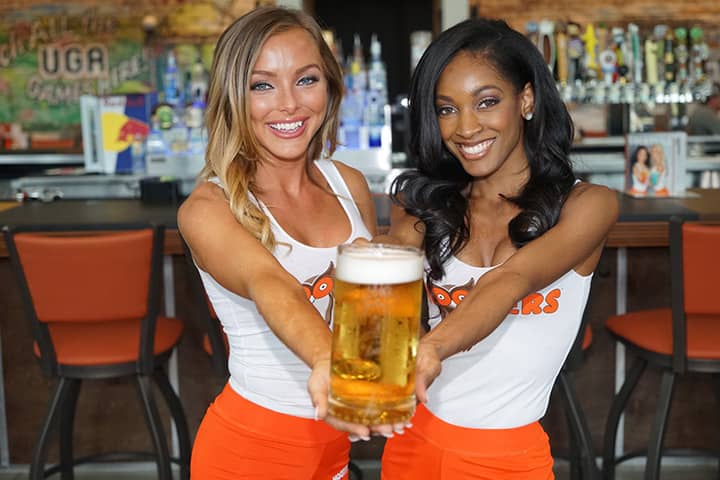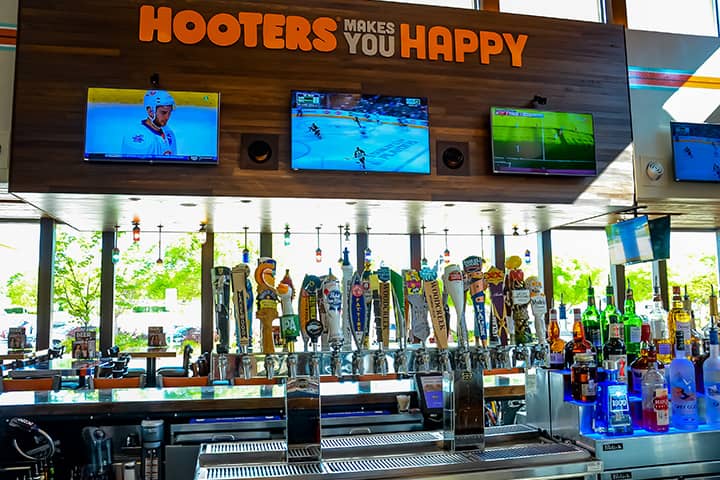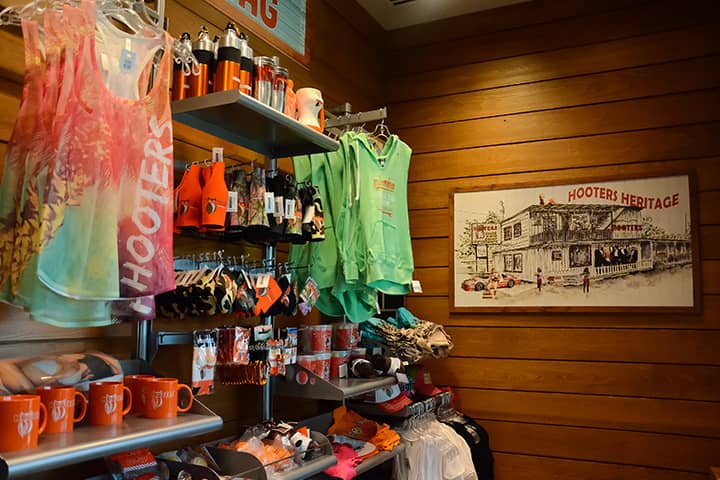 Development Costs
Hooters restaurant development costs consist of three (3) main elements:

Business elements are the funds necessary to open and operate a Hooters restaurant and what will be needed for your business regardless of how the development elements are arranged.
Development elements consist of the actual construction, furniture, fixtures and equipment costs to outfit your facility for Hooters.
Real Estate is the land on which the Hooters restaurant may be built. The greatest variation in Hooters franchise development costs occurs in the real estate and site work for free standing ground up construction. Each piece of land is unique and the condition or existing improvements at the parcel, along with local market conditions for construction labor, greatly impacts the final costs.
The range of development costs varies significantly based on geography within the United States and in various markets throughout the world. In addition, the location size and specific local building codes will affect the development cost of the restaurant. A complete range of estimated development costs may be found in Item 7 of our Franchise Disclosure Document.