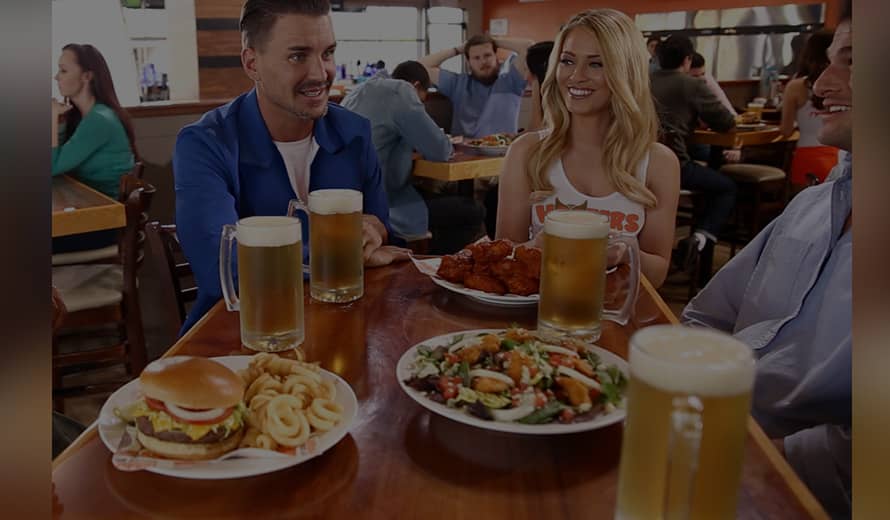 Why Hooters?
Great quality food and beverages, at reasonable prices, served in a fun, energetic and inviting atmosphere, all with exceptional service from our world renowned Hooters Girls!
Get Started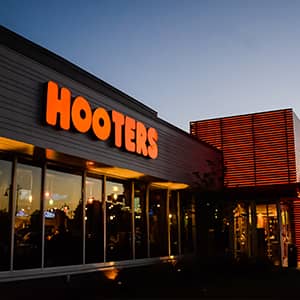 Over 430 locations in 39 states, 29 international markets, and growing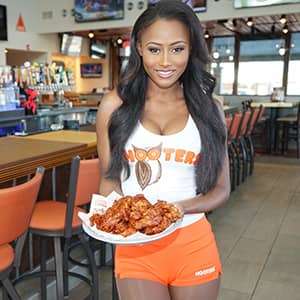 World-famous Hooters Girls hospitality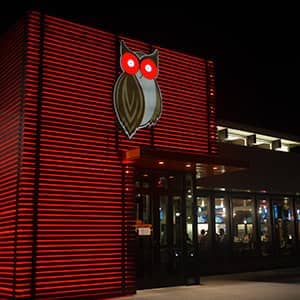 Phenomenal worldwide brand recognition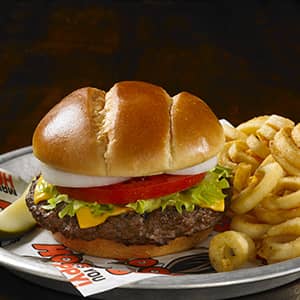 Craveable, high-quality menu items & full bar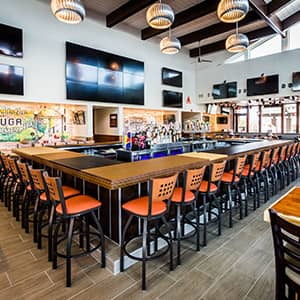 Exciting, inviting and vibrant new prototype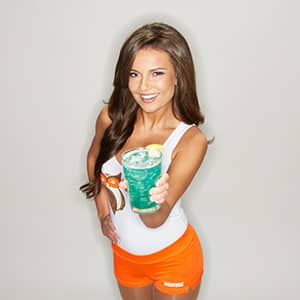 Compelling unit level economics
A Little History
Hooters of America, LLC is the Atlanta-based operator and franchiser of over 430 locations in 28 countries. The privately held corporation also owns and operates 205 locations itself.

The first Hooters opened October 4, 1983, in Clearwater, Florida. The Original Six founders were quickly detained for impersonating restaurateurs, but fortunately for America, they were soon allowed to go about their business. During its history, the Hooters concept has remained true to its roots. The current logo, uniform, menu and ambiance are all very similar to what existed in the original store, albeit with some 21st century enhancements. This consistency is understandable given Hooters continued success and high ranking amongst the industry's growth leaders.

The casual beach-themed establishments feature music, sports on large flat screens, and a menu that includes seafood, sandwiches, burgers, salads, and of course, Hooters original chicken wings. Others have arrived, departed, and even flat out copied our formula, but we remain the genuine original.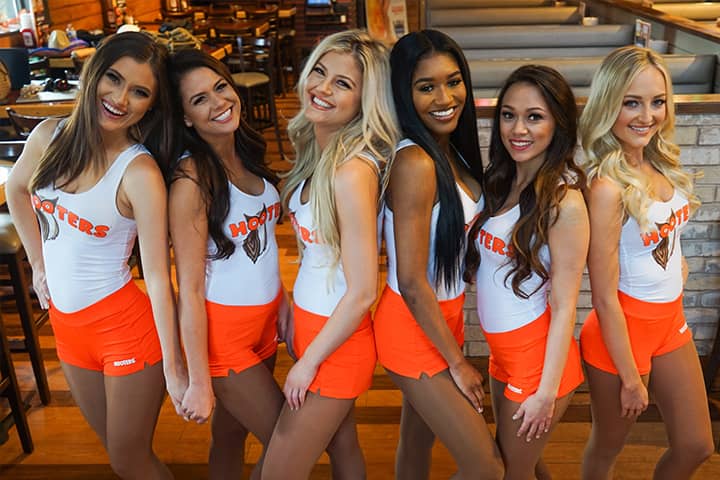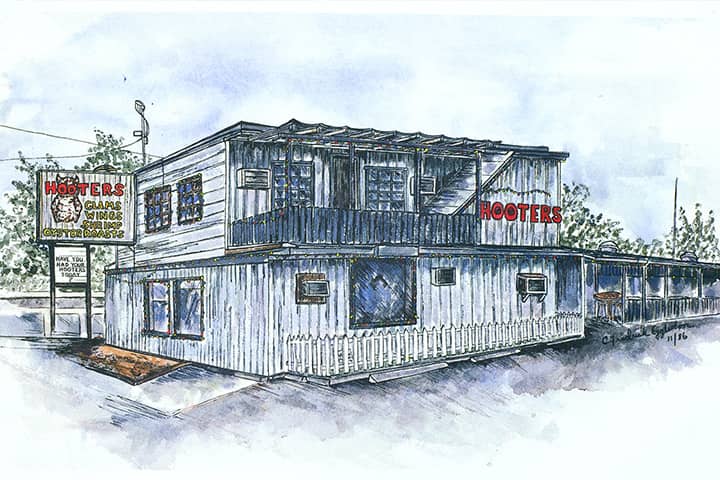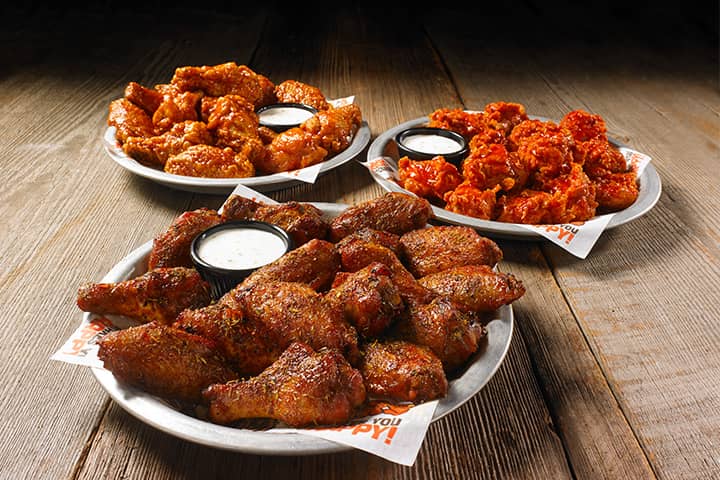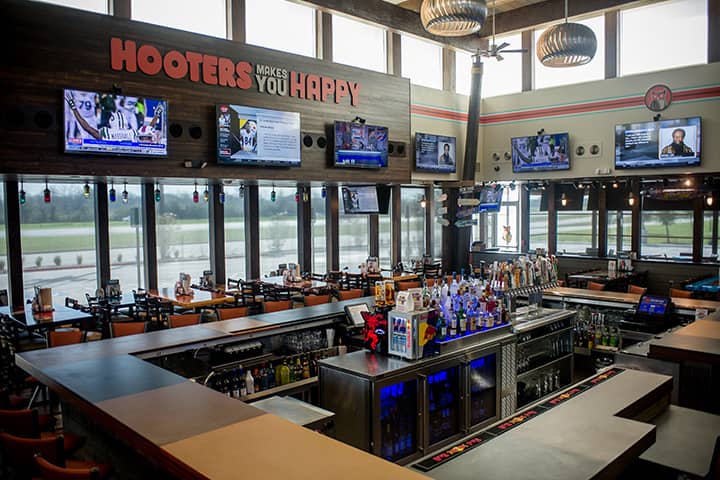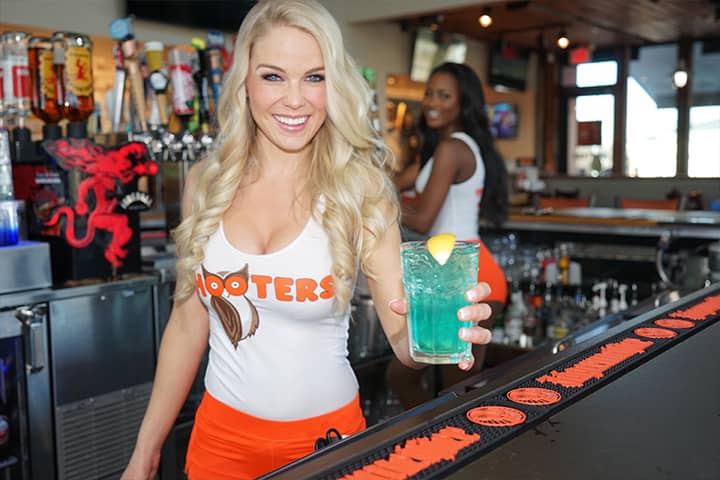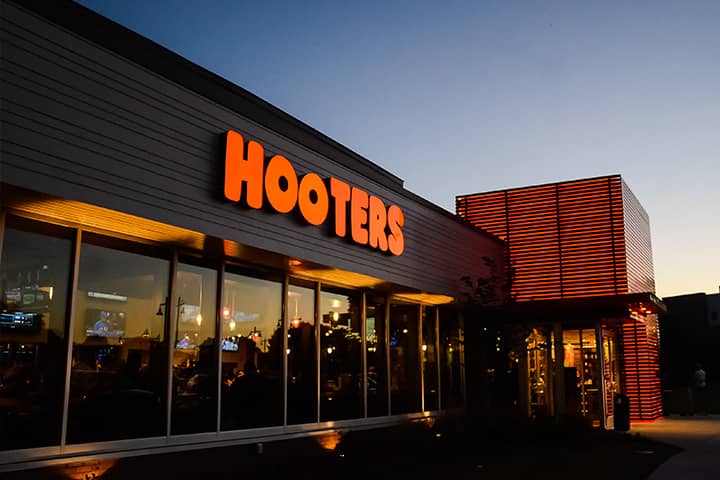 The Hooters Girl
Hooters is proud to have created a globally recognized icon. Obviously we're talking about the owl in our logo, but in addition to that, the Hooters Girl has become a phenomenon of her own. Hooters Girls are the very essence of Hooters. Trained to excel in customer service, they provide the energy, charisma and engaging conversation that keep guests coming back. Much more than just a pretty face, Hooters Girls have game. They're intelligent and attentive – using their energy, experience and personalities to serve guests everywhere, to live in the moment and take a break from the outside world.

Hooters is proud of the more than 300,000 Hooters Girl alumnae who have grown into their own lives as mothers, wives, career-minded businesswomen and entrepreneurs, many becoming doctors, lawyers, authors, government officials and community leaders. Chances are you'll see Hooters girls in your local community lending a hand to help some great organizations – from raising money for breast cancer research to recovery efforts after major storms.
Good Times On Tap
Our guests are our first priority. From the moment you walk in the door, you're treated like family. Whether it's a business lunch or a group who came to watch the game, we believe you deserve clean restaurants, great tasting food and our signature Hooters hospitality, all in a high-energy atmosphere.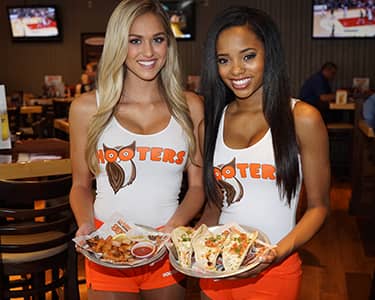 Building on Hooters legacy of hot wings, seafood and sandwiches, we've been aggressively elevating the experience to the top of the food chain by evolving our menu to include a delicious selection of appetizers, fresh salads, hearty sandwiches and signature burgers. In addition to our ice-cold beer selection, we've expanded our beverage menu to include a variety of specialty drinks, wine and cocktails.

We didn't stop with the food and drinks. With the launch of our new restaurant prototype design in July 2013, we have elevated the ambiance and image of the Hooters restaurant while staying true to our respected heritage. And if you love sports as much as we do, we have installed bigger and better full HD flatscreen TV's throughout our restaurants. Wherever you're sitting, you'll have front row seats to the game.
Our guests are our first priority. From the moment you walk in the door, you're treated like family.
Get Started
A Good Neighbor
Communities, businesses and people across the world will all tell you that Hooters is one of the best neighbors they've ever had. And those amazing Hooters Girls are the quintessential, all-American "Girl Next Door" – smiling, friendly and committed to making sure every guest receives stellar Hooters hospitality in and outside of the restaurant.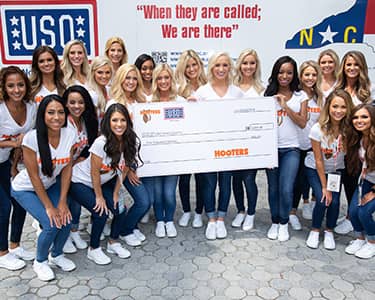 Hooters is also increasing its commitment to the things that matter most – the communities we serve, the Hooters Girls we train and empower, and the causes we hold most dear.

Since the beginning, Hooters has been deeply involved in the communities we serve. Our reputation for caring and compassion sets Hooters apart, and shows the world that the beauty of our girls is hardly just skin deep.

The Hooters Community Endowment Fund (HOO.C.E.F.) has raised over 8 million dollars for local and national charities such as the Jimmy V Foundation for Cancer Research, Make-A-Wish Foundation, Families for Effective Autism Treatment, the USO, the Red Cross, and the Chase Elliott Foundation.

In 2006 Hooters partnered with the V Foundation for Cancer Research and established a $2 Million Breast Cancer Research Grant in the name of Kelly Jo Dowd. Kelly was the 1998 Hooters Calendar Cover Girl and cancer-fighting symbol who spent the last years of her life battling breast cancer.

In 2009, Hooters partnered with Operation Homefront to establish The Valentine Fund in honor of fallen hero SOCS Thomas J. Valentine. The fund supports the families of Special Forces service members and other military families. Hooters has donated $200,000 to the fund.
Why Not?
We don't think the awesomeness of Hooters should be confined to a restaurant, so we've tried some different things in the past. Some are still going strong. Some went out in a blaze of glory. All were a heck of a lot of fun.

Hooters had a great run as title sponsor of the National Golf Association Hooters Pro Golf Tour from 1988 to 2011, enjoying extensive television coverage and fan support. Other sponsored sports properties include Formula One powerboat racing and an AMA Motorcycle Team.

In 2003 the Hooters brand literally took to the skies when Hooters Air Airline was launched. At its peak the airline served 15 cities including Nassau and Las Vegas. While Industry problems grounded the carrier in 2006, the venture will forever be a part of airline lore.

In 2006, the Hooters Casino Hotel in Las Vegas opened at the site of the former San Remo Hotel. The 700-room property combines the signature Hooters experience with everything Vegas has to offer. Hallelujah.

Currently, Hooters has joined 12-time NASCAR Cup Series champions Hendrick Motorsports as a sponsor of driver Chase Elliott and the No. 9 Chevrolet Camaro ZL1 team.

Whatever the venture, whatever the time, it all comes down to not being afraid to let loose and live a little. The first few decades have been a hoot, and the chain looks forward to a bright future.
Get Started