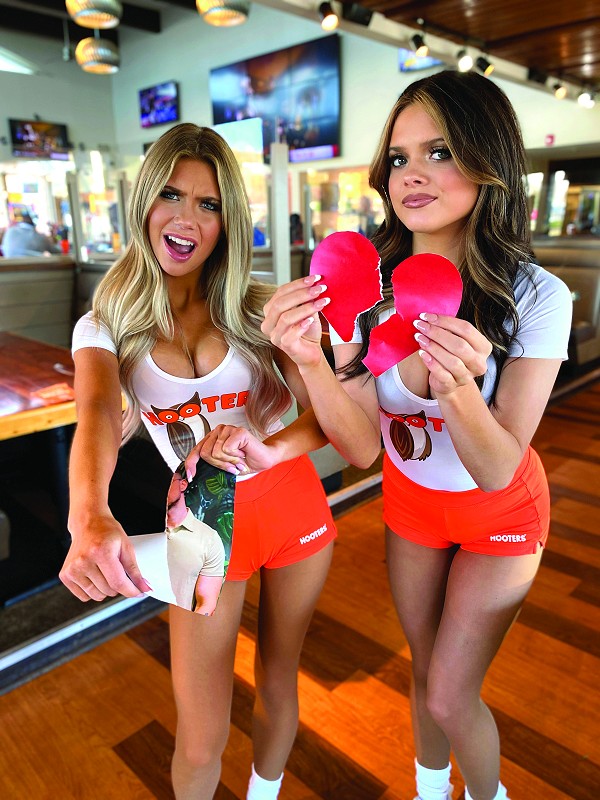 Hooters is mending broken hearts with photo shredders and chicken wings -- and chasing the occasion with sweet messages for charity -- this Valentine's Day at the restaurant's #ShredYourEx event.
Back by popular demand with some new twists and offers, guests can gain closure and comfort food by burning, burying, ripping or shredding a picture of their ex to earn 10 free boneless wings with in-store purchase of 10 wings. There's nothing like a wing-eater scorned, so the heartbroken, heartbreakers and rebounders can destroy photos of an ex using shredders provided at participating Hooters restaurants or conduct the ritual virtually. Those who shred photos online will receive a digital coupon for the deal.
In addition to giving restaurant guests a creative way to earn favorite foods for the February 14 occasion, Hooters is also leveraging the popular Cameo platform to raise money for charity and lift up those who are down in the dumps by offering personal Valentine's videos from Hooters Girls. Fans can sign up to either receive or gift a Cameo video from a star-studded line up of Hooters Girls from the restaurant chain's iconic calendar and pageant, with proceeds benefiting each participating Hooters Girl's favorite charity.
To take part in these programs, visit the Hooters #ShredYourEx site and Cameo Hooters Valentine's page where you can virtually shred your ex, receive the Valentine's Day BOGO offer and book and request Hooters Girls recording messages of goodwill for their cherished causes.
"We have ushered in our own modern traditions and are debuting some unconventional ways to extinguish an old flame and celebrate Valentine's Day at Hooters restaurants this year," explained Bruce Skala, senior vice-president, marketing. "Whether you're planning to dine with us solo or with friends or family, we invite all our guests to mark the occasion early by going online."
The restaurant chain is offering ways all guests including "newly singles" can spend Valentine's Day with their true heart's desire – Hooters world-famous chicken wings. Hooters invites its guests to rediscover or fall in love with more flavors, sauces and tastes with Hooters' unbeatable line-up featuring its Smoked Wings, Roasted Wings and everyday classics such as Original-Style Breaded Wings, Naked Wings, Daytona Beach-Style Wings and Boneless Wings. Guests will forget about their relationship woes as they pair their Hooters world-famous wings with their choice of 13 craveable sauces, like Hooters Honey Sriracha and Spicy Garlic, or one of six dry rubs including Texas BBQ, Caribbean Jerk or Garlic Habanero.
The Hooters #ShredYourEx offer is dine-in only at Hooters restaurant locations across the U.S. on Monday, February 14, 2022 only, and the deal cannot be combined with any other discount or promotional offer.
To find your nearest Hooters location, visit Hooters.com.