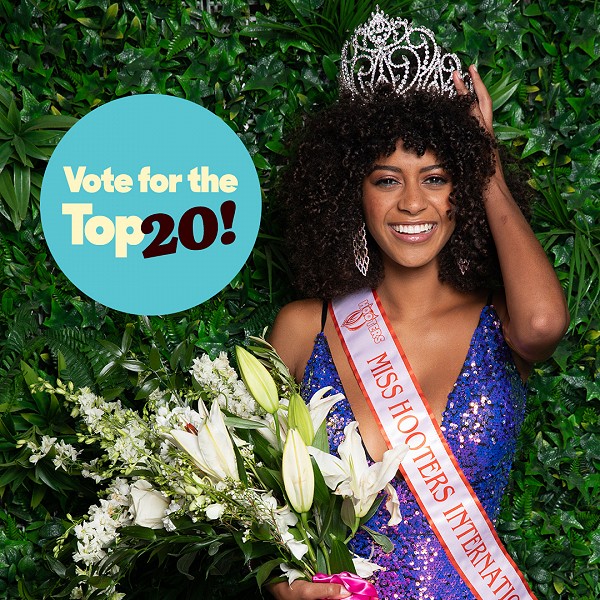 Hooters, the original American wing joint, invites everyone to cast their vote to select the Top 20 Hooters Girl Contestants from across the country at Hooters.com/PageantVote. The top 20 selected will compete live at the Miss Hooters Pageant for the title of 'Miss Hooters' and a cash prize of $30,000, in Orlando, Fla., on July 29. The digital polls are open now through Wednesday, July 7, at 11:59 p.m. EST.
Contestants, sorted alphabetically by first name, have individual profiles featuring their name, Hooters home store, swimsuit pictures, and a short biography. Vote for your favorite using the dropdown menu to find contestants or simply scroll through the entire list. When making your selection, just register with your phone number to make it count towards the results. You'll also be able to share your selection across your social pages, inviting others to join in your vote. The Hooters Girl candidates for the Miss Hooters title (and the hometown Hooters location they represent) include:

Alyssa (Denham Springs, La.)
Amanda (Clarksville, Tenn.)
Auna (Madeira Beach, Fla.)
Averey (Mesa, Ariz.)
Ayansley (Gainesville, Fla.)
Baylee (Lafayette, Ind.)
Bernice (Houston)
Bhree (Memphis, Tenn.)
Blakelyn (Jacksonville, Fla.)
Bre (Orlando, Fla.)
Bree (St. Louis, Mo.)
Brittany (King of Prussia, PA)
Connor (Richmond, Va.)
Delaney (Fairview Heights, Ill.)
Eden (Abilene, Texas)
Elizabeth (Hampton, Va.)
Enayyah (Daytona Beach, Fla.)
Gia (Warwick, RI)
Gianna (Boca Raton, Fla.)
Grace (Bloomington, Minn.)
Grace (Grapevine, Texas)
Gracie (Brandon, Fla.)
Grayson (Kennesaw, Ga.)
Haley (Mason, Ohio)
Halie (Denton, Texas)
Hannah (North Kansas City, Mo.)
Heather (Weston, Fla.)
Ireland (Madeira Beach, Fla.)
Isabel (Jacksonville, N.C.)
Jazzmyn (Pensacola Beach, Fla.)
Jenise (Fort Lauderdale, Fla.)
Jen (Tucson, Ariz.)
Jimi (Loveland, Colo.)
Kaitlin (Atlantic City, NJ)
Kaitlyn (Melbourne, Fla.)
Kasandra, Fort Worth, Texas)
Kate (Richmond, Va.)
Keaton (Humble, Texas)
Kylea, Virginia Beach, Va.)
Kyleie (Mesa, Ariz.)
Leah (Melrose Park, Ill.)
Lindsay, Merrillville, Ind.)
Liz (Lakeland, Fla.)
Logan (Virginia Beach, Va.)
Lyrik (Mesquite, Texas)
Marissa (Concord, N.C.)
Mattie (Orlando, Fla.)
Maya (Chattanooga, Tenn.)
Megan (Fairview Heights, Ill.)
Michaela (Westbank, La.)
Mikayla (Denham Springs, La.)
Morgan (Frisco, Texas)
Morgan (Toledo, Ohio)
Nadira (Houston)
Paloma (Atlanta)
Raegan (Pasadena, Texas)
Rose (Chantilly, Va.)
Rosie (Orlando, Fla.)
Savannah (St. Peters, Mo.)
Scarlett (Pearland, Texas)
Schady (Virginia Beach, Va.)
Shelbe (Houma, La.)
Sloan (Sarasota, Fla.)
Tayler (Sugarland, Texas)
Thaliyah (Columbis, S.C.)
Uniqua (Miami, Fla.)
Zelmara (Chicago)


In addition to the fan vote, each contestant will also go through a formal interview with Lynne Austin, THE Original Hooters Girl, and be scored based on their answers, personality and representation of the brand. The fan voting scores combined with interview scores will determine the top 20 finalists who will then head to Orlando for the live pageant.

You have the chance to cast your vote more than just once, though! In fact, you can vote up to five times in any 24-hour period*.

To cast your vote in the Hooters Virtual Pageant, please visit Hooters.com/PageantVote. Follow us at twitter.com/hooters, facebook.com/hooters, and instagram.com/hooters.

*Total votes per person cannot exceed 45

To find your nearest Hooters location, visit Hooters.com.