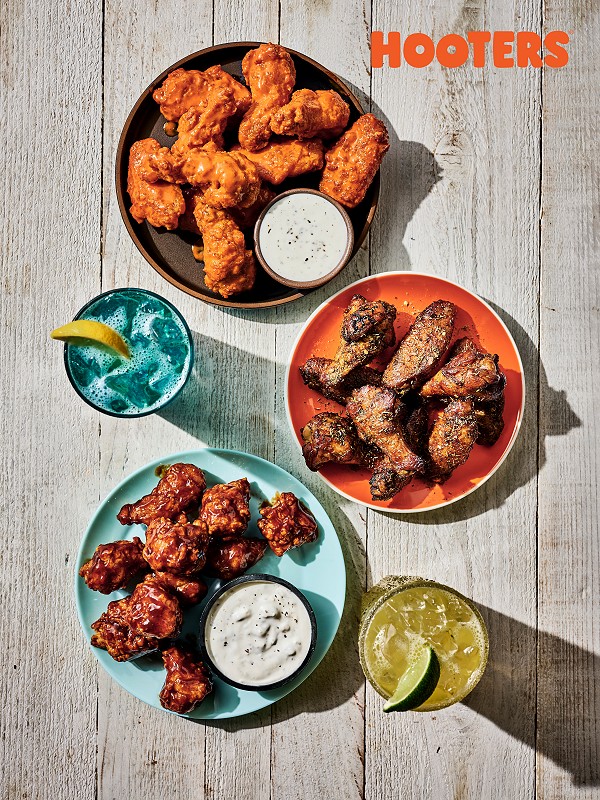 Hooters, the original American wing joint, has unveiled wing-decorated apparel and other merchandise including a two-foot long pillow in the shape of a chicken wing, swim trunks, bikinis, bucket hats and even "ear-wings" to accessorize in style – all of which are now available at participating Hooters locations nationwide, as well as online at shop.hooters.com/collections/wing-collection, for a limited-time only. The line-up is fit for the end of summer and beyond!
In honor of National Chicken Wing Day on Thursday, July 29, Hooters will offer all guests (dine-in only) 10 free Boneless Wings with the purchase of 10 wings any style at participating locations nationwide.
Hooters offers more flavors, sauces and taste with an unbeatable line-up, featuring its Smoked Wings, Roasted Wings and everyday classics such as Original-Style Breaded Wings, Naked Wings, Daytona Beach-Style Wings, Bacon Wrapped Wings and Boneless Wings. Dip into your favorite Hooters craveable sauce, like Hooters Honey Sriracha and Spicy Garlic, or one of five dry rubs including Texas BBQ, Caribbean Jerk or Garlic Habanero. The best wings can only be served up by iconic Hooters Girls, so Hooters really is the one-and-only choice for your wing-eating pleasure on National Chicken Wing Day.
Another major moment taking place on National Chicken Wing Day is Hooters Miss Hooters Pageant in Orlando, featuring the top 20 Hooters Girls from across the country who will compete for the title of Miss Hooters 2021 and a $30,000 cash prize. One of the celebrity judges selecting the winner is competitive world champion eater Joey Chestnut.
Pick up your own limited-edition, wing-inspired Hooters merchandise at shop.hooters.com/collections/wing-collection or at your nearest location for a limited-time only, and stop into your nearest Hooters on July 29 for National Chicken Wing Day. For more information and to find your nearest Hooters, visit www.hooters.com or follow us at twitter.com/hooters, facebook.com/hooters and instagram.com/hooters.
To find your nearest Hooters location, visit Hooters.com.