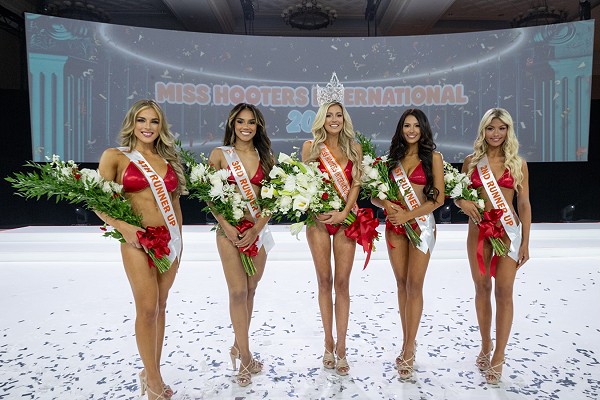 Jacksonville Hooters Girl Emily Johnson, representing Orange Park, was crowned Miss Hooters International 2023 at the 26th Annual Miss Hooters International Pageant held overnight at Caesars Palace. Along with the title, Johnson will take home a $30,000 cash prize, among several other unique benefits.
Johnson, the 2022 Hooters Girl of the Year and four-time Hooters Calendar Girl, has worked at Hooters for six years and has leveraged the role to build her professional portfolio and pursue an academic dream dear to her family as, growing up, she observed occupational therapists help her brother recover from brain surgery. She has tapped into the company's tuition reimbursement program to fund education toward a doctoral degree in occupational therapy. When not studying or working, Johnson enjoys deep-sea fishing, kayaking, traveling and a new passion for golf.
"I honestly feel like I'm in a dream right now," said Johnson. "After competing alongside this group of talented and beautiful women, I feel even closer to my Hooters family and extremely honored to accept this title. I am extraordinarily grateful to represent Hooters and the nearly half a million Hooters Girls alumnae worldwide in the upcoming year. I'm looking forward to being an ambassador for the brand on a larger scale and participating in major events, activations and milestones."
Interest in the competition has intensified as the Hooters brand celebrates its 40th anniversary this year. Pomp and pageantry at the event included nostalgic reminders of the iconic restaurant chain's first four decades. Today the brand is a growing concept both domestically and globally that has become the go-to destination for hot wings, cold beer and other favorite menu items. The promise of "Hooters Makes You Happy" is brought to life through the one-of-a-kind hospitality of the Hooters Girls.
Johnson's charm and confidence in interview, uniform and swimsuit rounds impressed co-hosts Sable Robbert, Miss Hooters International 2016, and Hannah Williams, a former Miss Hooters International runner-up, along with judges such as Original Hooters Girl Lynne Austin, Miss USA 2021 and former Hooters Girl Elle Smith. Also joining the judge's panel were UFC fighter Bobby Green; Natalia Shvachko, former Miss Ukraine; Jessa Hinton, a social media influencer; and Chad Avrit, rear-tire changer for Chase Elliott and the No. 9 Hendrick Motorsports team.
During her year-long reign, Johnson will serve as one of the faces of the Hooters brand, contributing to marketing initiatives and special events, attending restaurant openings around the world and leading the crew in cheering on Chase Elliott, driver of the No. 9 Hooters Chevrolet at NASCAR events.
Additional competition winners, earning runner-up finishes, include Cassidy Marginean (Dallas, Texas) (first runner-up), Sophia Zullo (Mason, Ohio) (second runner-up), Paloma Henderson (Atlanta, Ga.) (third runner-up) and Aly Vargas (Pensacola Beach, Fla.) (fourth runner-up).
Also placing in the top ten were Ashleigh Meade (Chantilly, Va.), Kiana Mahabir (Odessa, Fla.), Breyale Jenkins (Orlando, Fla.), Scarlett Knight (Pearland, Texas) and Savannah Wicks (St. Peters, Mo.).
Cassidy Marginean also won the Miss Photogenic prize. Other award winners include Roisin Leach (Liverpool, England) as Miss Congeniality and Lindsay Lynch (Merrillville, Ind.) as Miss Fan Favorite, selected by Hooters customers and the general public.
While in Las Vegas for the pageant, the contestants participated in meaningful community outreach with Nevada Society for the Prevention of Cruelty to Animals (Nevada SPCA), a nonprofit organization saving the lives of Southern Nevada's most vulnerable pets. The organization inspires human companions to uphold the best possible care, while increasing the human-animal bond through adoption, foster and preventative care. The Hooters Girls competing in the pageant presented a monetary donation and helped prepare baskets of supplies for individuals and families adopting pets from the nonprofit.
For more information about the Miss Hooters International Pageant, visit hooters.com/hooters-girls/pageant. Follow us at twitter.com/hooters, facebook.com/hooters, and instagram.com/hooters.
To find your nearest Hooters location, visit Hooters.com.