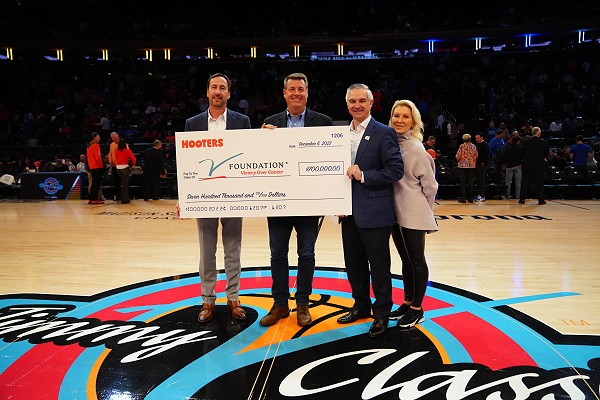 ATLANTA (Dec. 7, 2022) – Hooters raised $700,000 in October by asking America to #GiveAHoot in the fight against breast cancer during its month-long fundraising campaign in support of National Breast Cancer Awareness Month—adding up to a total amount of approximately $8.7 million raised. The funds, generated with tremendous support from Hooters restaurant staff teams and guests from around the world, were presented to the V Foundation for Cancer Research during the 2022 Men's Jimmy V Basketball Classic held at Madison Square Garden in New York City on December 6.
For over eight years, the annual Give A Hoot campaign has directly benefitted the V Foundation for Cancer Research, one of the nation's leading cancer research funding organizations, as well as other local beneficiaries through the Kelly Jo Dowd Breast Cancer Research Fund. Part of the Hooters Community Endowment Fund (HOO.C.E.F.), the Kelly Jo Dowd Breast Cancer Research Fund was established in honor of the late Kelly Jo Dowd, an original Hooters Girl and the 1995 Hooters Calendar Cover Girl.
"Until we have a cure, we are fighting breast cancer through game-changing research," said Shane Jacobson, CEO of the V Foundation. "Women who battle breast cancer do so with strength and bravery, and our efforts help us tell more survivor stories each and every day."
Nearly 288,000 females will be diagnosed with breast cancer in the U.S. this year, and one in eight women will be diagnosed with the disease at some point in their lifetime. Raising awareness and funds for breast cancer research is personal for Hooters, which has more than 17,000 Hooters Girls around the globe and a workforce made up of 70 percent women. Hooters values employee well-being and continues to invest in the health of its teammates.
"Part of being a neighborhood restaurant means supporting grassroots causes dear to our families in each community we serve," said Bruce Skala, chief marketing officer for HOA Brands LLC. "The $700,000 raised this year is a testament to the generous support from the people who patronize our restaurants and participate in our special programs. Our Hooters Girls and Heart of House employees have rallied in support of the incredible tenacity of women who are cancer patients and survivors."
During this year's fundraising campaign, Hooters guests were invited to contribute to the cause by adding their name to a personalized endowment card, attending a local fundraising event at Hooters, enjoying one of several 'pink drinks' with proceeds benefiting the campaign or 'pinking up' their check during a visit to Hooters.
Consumers can still support the cause with calendars available for the holidays. For every 2023 Hooters Calendar purchased, Hooters donates $1 toward the Give A Hoot fundraising effort.
Inspired by Hooters' very own Kelly Jo Dowd, who lost her battle with breast cancer in 2007, Hooters Girls have now raised $8.7 million over the years to support breast cancer research, much of it through the grant in Kelly Jo's name to the V Foundation for Cancer Research. These grants have helped fund a range of cancer research from therapeutic discovery to personalized cancer treatment to identifying stage-specific metastasis characteristics. The annual fundraising effort honors Kelly Jo and advances her mission to educate all women, especially her extended family consisting of some 300,000 current and former Hooters Girls, about the importance of early detection and prevention. Throughout her struggle, Kelly Jo was courageous and selfless, becoming an advocate for early detection, education and fundraising.
The V Foundation for Cancer Research was founded in 1993 by ESPN and the late Jim Valvano, legendary North Carolina State University basketball coach and ESPN commentator. The V Foundation has funded more than $310 million in game-changing cancer research grants nationwide through a competitive process strictly supervised by a world-class Scientific Advisory Committee. Because the V Foundation has an endowment to cover administrative expenses, 100% of direct donations are awarded to cancer research and programs. The V team is committed to accelerating Victory Over Cancer®. To learn more, visit v.org.
Although National Breast Cancer Awareness Month has concluded, contributions can still be made online at Hooters.com/Give.
To find your nearest Hooters location, visit Hooters.com.