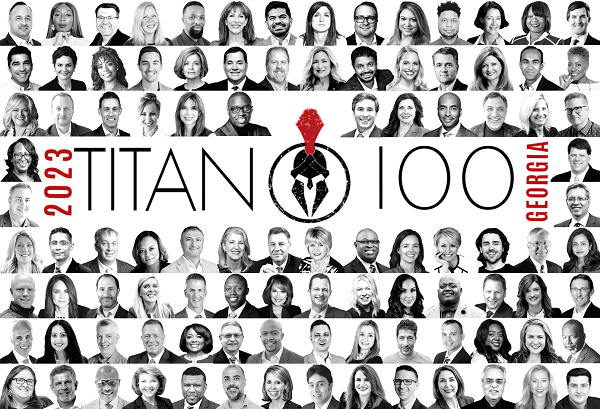 HOA Brands' Sal Melilli, president and CEO, and Cheryl Whiting-Kish, chief people officer, are among the 2023 Georgia Titan 100 honorees to be recognized this spring.
Titan CEO and headline sponsor Wipfli LLP are pleased to announce each of these officers of HOA Brands, the company featuring brands such as Hooters and hoots wings by Hooters, as part of this year's Georgia Titan 100. The Titan 100 program recognizes Georgia's Top 100 CEOs & C-level executives. These executives are among the area's most accomplished business leaders in their industry, using criteria that includes demonstrating exceptional leadership, vision, and passion. Collectively the 2023 Georgia Titan 100 and their companies employ upwards of 118,000 individuals and generate over $36 billion in annual revenues.
This year's honorees will be published in a limited-edition Titan 100 book and profiled exclusively online. They will be honored at an awards ceremony on April 27 and have the opportunity to interact and connect multiple times throughout the year with their fellow Titans.
"The Titan 100 are changing the way that business is done in Georgia," said Jaime Zawmon, president of Titan CEO. "These preeminent leaders have built a distinguished reputation that is unrivaled and preeminent in their field. We proudly recognize the Titan 100 for their efforts to shape the future of the Georgia business community. Their achievements create a profound impact that makes an extraordinary difference for their customers and clients across the nation."
Melilli has led countless successful initiatives during his tenure as CEO and president of HOA Brands, LLC., the franchisor and operator of more than 400 Hooters restaurants. Leveraging his expertise in brand management, franchising relations and extensive general management, he oversees the nearly billion-dollar brand and manages close to 400 units worldwide. Starting his career with the brand more than 25 year ago, Melilli began his work at Hooters in the "Heart of House" as a dishwasher and intern before climbing the ranks and mastering various skills, including construction, site selection, franchising, budgeting, store operations and marketing. Since joining HOA Brands, Melilli has developed and led the most successful territories within the Hooters system to date and was instrumental in creating hoots wings by Hooters, one of the newest brand extensions.
"For our guests, we want our restaurant to remain their escape from the rigors of everyday life.," added Melilli. "We enrich people's lives in good times and in bad times, and after four decades, we've become woven into the fabric of people's lives for different reasons and occasions. Over the next five years, we will strengthen that bond, continue to elevate the dine-in experience, and increase convenience for our guests, enabling them to enjoy Hooters wherever they are. Because life is on demand and on the go, we will enhance our digital ordering/delivery technology and program for customers who prefer to order online through apps for pickup or delivery."
Whiting-Kish began her career with HOA Brands as a Hooters Girl at a West Palm Beach restaurant. Her talent and determination helped her rise through the Hooters leadership ranks, serving as assistant manager, general manager, the company's first female VP, and eventually a senior VP. In these roles, she developed the company's formalized training program, creating equitable opportunities for everyone within the organization to grow with the brand. Whiting-Kish spent 17 years leading her consulting firm, Define Consulting, before returning to HOA in 2019 as senior vice president of organizational effectiveness. She was promoted to chief people officer last year. To this day, the training helps team members build leadership acumen so they can be successful within and beyond the brand.
She added, "We will continue supporting our team members, many of whom are Heart of House (kitchen staff) and Hooters Girls, by providing a beneficial workplace environment. We are in the 'people business,' and our people are our priority. We will offer employees resources allowing them to live their desired lives and support their families with compensation to spend on what's important to them, whether a vacation, a new home, or putting their kids through college. After training and experience, our team members are prepared to climb any career ladder, including inside the Hooters brand or elsewhere. We remain committed to upward mobility within our brand, like dishwashers becoming CEO and Hooters Girls serving as chief people officer. Additionally, we will maintain our college tuition reimbursement program, an initiative that has given millions of dollars to our hourly team members."
Melilli and Whiting-Kish will be honored at the Titan 100 awards on April 27, 2023, at Zoo Atlanta: Savanna Hall. One of the city's most treasured historic buildings, the 1921 building has been revitalized by Zoo Atlanta for its new life today. As the home of the Atlanta Cyclorama for more than 90 years, the building is famous for its grand scale and neoclassical architecture. This unique cocktail-style awards event will gather 100 Titans of Industry and their guests for an evening unlike anything that exists in the Georgia business community.
"On behalf of all the partners and associates at Wipfli, we congratulate all the Titan 100 winners. It's an honor to recognize this diverse group of leaders in the Atlanta community. We appreciate the lasting impact each leader has made, and continues to make, in building organizations of significance both in Atlanta and abroad. Your ingenuity and creativity have set you apart, and the honor of being seen as an industry Titan is richly deserved," said Bill Boucher, partner at Wipfli.
To find your nearest Hooters location, visit Hooters.com.