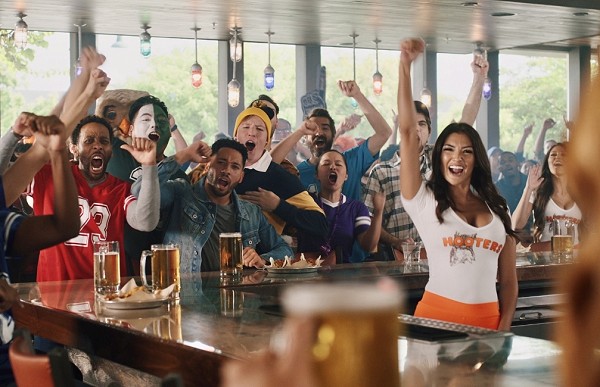 Hooters, the original American wing joint, continues to be the nation's top gameday destination announcing today it will show DIRECTV's exclusive Thursday Night Football (TNF) package throughout the 2022 season in its iconic restaurants.
DIRECTV for Business and Amazon recently inked a deal to showcase Prime Video's Prime Time Package for all Thursday Night Football games. The lineup features exclusive pre-game, halftime and post-game coverage for all 15 TNF games throughout the regular season. The immersive content experience will be available at all 410 U.S. Hooters locations.
"Hooters is the premier destination for gamedays and game nights throughout the week, and we are excited to offer fans Thursday Night Football while they enjoy our signature wings, extensive selection of draft beers and craft cocktails in our one-of-a-kind atmosphere," said Hooters Chief Marketing Officer Bruce Skala. "We are extremely pleased to offer this content through DIRECTV for Business, a Hooters' Strategic Partner of the Year award recipient."
Thursday Night Football kicks off Sept. 15 with the Kansas City Chiefs hosting the Los Angeles Chargers. The full lineup includes:
Sept. 15: Los Angeles Chargers at Kansas City Chiefs
Sept. 22: Pittsburgh Steelers at Cleveland Browns
Sept. 29: Miami Dolphins at Cincinnati Bengals
Oct. 6: Indianapolis Colts at Denver Broncos
Oct. 13: Washington Commanders at Chicago Bears
Oct. 20: New Orleans Saints at Arizona Cardinals
Oct. 27: Baltimore Ravens at Tampa Bay Buccaneers
Nov. 3: Philadelphia Eagles at Houston Texans
Nov. 10: Atlanta Falcons at Carolina Panthers
Nov. 17: Tennessee Titans at Green Bay Packers
Dec. 1: Buffalo Bills at New England Patriots
Dec. 8: Las Vegas Raiders at Los Angeles Rams
Dec. 15: San Francisco 49ers at Seattle Seahawks
Dec. 22: Jacksonville Jaguars at New York Jets
Dec. 29: Dallas Cowboys at Tennessee Titans
To find your nearest Hooters location, visit Hooters.com.