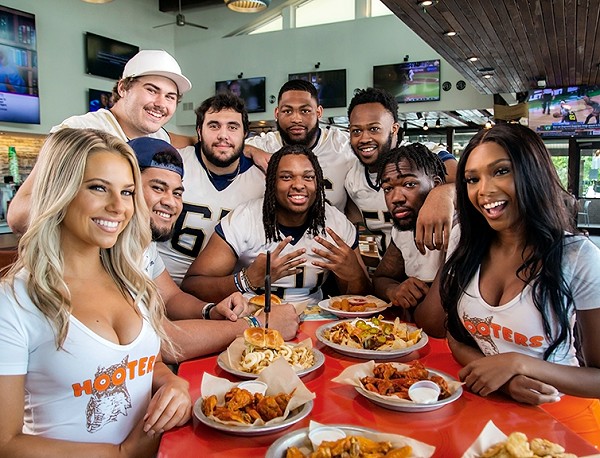 Hooters, a brand that has captured national attention for its creative partnerships with student-athletes in the name, image and likeness space, won Brand of the Year at the 2023 NIL Awards. The national award was presented on Saturday, June 3, at the NIL Awards at the College Football Hall of Fame in Atlanta during the second annual NIL Summit.
Hooters' groundbreaking offensive lineman-focused marketing campaign, which celebrated the unsung heroes of college football, helped the world-famous brand edge out Adidas, H&R Block, Kellogg's, Raising Cane's, and Wrangler for Brand of the Year.
"NIL has historically been an individual award, and we wanted to take a different approach and have an offensive line unit from 17 different universities around the country and have those guys be the social media stars," said Hooters Chief Marketing Officer Bruce Skala. "Highlighting these student-athletes' stories and their dedication to the game truly resonated with our guests. Winning the Brand of the Year award is a testament to the collective efforts of our team and the exceptional collaboration between Hooters and these talented student-athletes."
Hooters' innovative marketing campaign tapped into the authenticity of offensive linemen, aligning their values with the working-class customers who frequent their iconic restaurants. Breaking away from the trend of individual athlete-focused NIL deals, Hooters took a unique approach, showcasing groups of offensive linemen who are often overlooked but play a pivotal role in a team's success. Hooters signed more than 50 football student-athletes to their offensive line roster, with the ambassadors actively engaging with their local Hooters restaurants and playing significant roles in the company's captivating social media content.
The Brand of the Year award, one of 12 award categories decided by an eight-member selection committee, recognizes creative excellence by a brand or organization for collaboration with a student-athlete. The NIL Awards kicked off the 2023 NIL Summit, an immersive multi-day professional development experience and gathering place for college sports' most important stakeholders to share cutting-edge ideas, discover new interests, and learn how to maximize NIL opportunities to build their brands and amplify their voices.
To find your nearest Hooters location, visit Hooters.com.