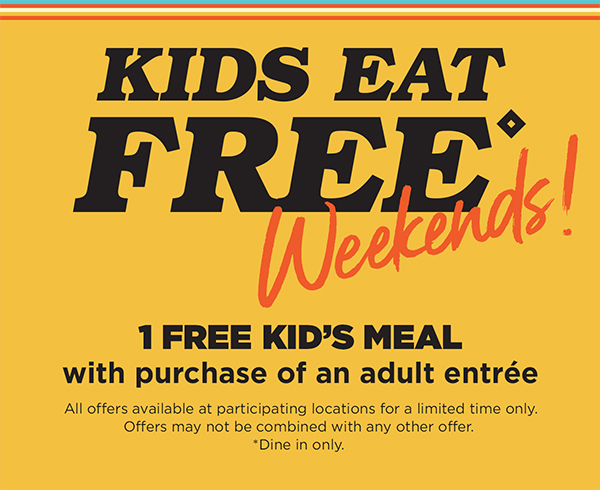 With youth sports and activities in full swing, Hooters is helping families save money by giving away free kids' meals.
From now through May 28, kids under 12 years old can enjoy a free kids' meal every Saturday and Sunday in-restaurant with the purchase of any adult entree at participating Hooters locations.
Kids can select their favorite meal from the Kids' Menu, whether it be Kids Wings - original breaded or naked non-breaded, Kids Boneless Wings, Kids Chicken Tenders – grilled or fried, Kids Chicken Sliders or Kids Burger Sliders. Each Kids' Menu meal comes with a side item, including a fruit cup or fries - curly or waffle style. Plus, they will receive a free beverage with choices of juice box, soft drink or tea, milk, and chocolate milk. Items may vary by location. Hooters is the ideal location to fuel up before family outings, to celebrate your family's victory meal after a local game, or to check out all the televised NBA and NHL playoff action, MLB games, MLS matches and NASCAR races with your loved ones.
To find your nearest Hooters restaurant, visit Hooters.com.
About Hooters of America, LLC
Hooters of America, LLC, is the franchisor and operator of more than 410 Hooters restaurants in 38 states and 24 countries. Known for its world-famous Hooters Style chicken wings, the first Hooters opened its doors in 1983 in Clearwater, Florida. Expectations were so modest at the time that the simple fact the doors opened was deemed worthy of a toast. Since then, millions have been liberated from the ordinary at Hooters while enjoying great food, fun, and one-of-a-kind hospitality that can only be served up by the Hooters Girls. For more information about Hooters, visit www.hooters.com or follow us at twitter.com/hooters, facebook.com/hooters, instagram.com/hooters, or on Snapchat at "hooters."
To find your nearest Hooters location, visit Hooters.com.