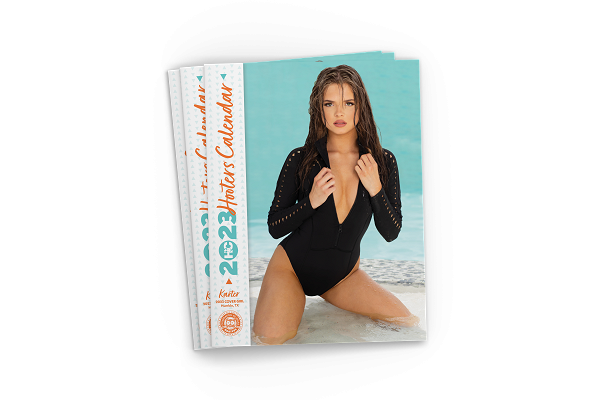 The 2023 Hooters Calendar spotlighting gorgeous and world-famous Hooters Girls is available online and at all Hooters locations. Featuring over 200 of your favorite Hooters Girls along with over $100 worth of coupons and deals, 2023 Hooters Calendars can be purchased online and at local Hooters restaurants.
For every calendar sold, Hooters will donate $1 toward its Give A Hoot fundraising effort benefiting the V Foundation for Cancer Research — one of the nation's leading cancer research funding organizations — and other local beneficiaries through the Kelly Jo Dowd Breast Cancer Research Fund.
Karter Higgins, a popular Hooters Girl featured in national marketing and advertising campaigns, adorns this year's cover. Miss Hooters International Madison Novo is the calendar's centerfold.
The 2023 Hooters Calendar features Hooters Girls from a variety of hometowns across America:
Cover Girl: Karter Higgins (Humble, Texas)
Miss January: Megan O'Neal (Melborne, Fla.)
Miss February: Breyale Jenkins (Orlando, Fla.)
Miss March: Grace Burchett (Fort Myers Beach, Fla.)
Miss April: Sara Vratanina (Tallahassee, Fla.)
Miss May: Sloan Miavitz (Sarasota, Fla.)
Centerfold: Madison Novo (Miami, Fla.)
Miss June: Allie Roberts (Lone Tree, Colo.)
Miss July: Alyssa Vargas (Denham Springs, La.)
Miss August: Eden Davis (Abilene, Texas)
Miss September: Cassidy Marginean (Grand Prairie, Texas)
Miss October: Rilee Beltramea (Clearwater, Fla.)
Miss November: Grace Tolmachoff (Fort Worth, Texas)
Miss December: Lindsay Lynch (Merrillville, Ind.)
Back Cover: Gracie Chamberlain (Brandon, Fla.), Alana Moore (Chesapeake, Va.), Sarah Peters (Long Beach, Calif.)
October 2022: Iza Glinkowski (Downers Grove, Ill.), Sophie Stocklein (Madison, Wis.), Averey Tressler (Mesa, Ariz.)
November 2022: Gianna Cipollaro (Brunswick, N.J.), Alyssa Wickman (Dayton, Ohio), Leah Braun (Mesa, Ariz.)
December 2022: Tanna Patino (Orland Park, Ill.), Joey Cousins (Albuquerque, N.M.), Olivia Lorenzo (Loveland, Colo.)
Inside Back Cover: Paloma Henderson (Cumberland, Ga.), Iliana Rodriquez (North Tampa, Fla.), Kaitlin Crombie (Atlantic City, N.J.)
The 2023 Hooters Calendars can be purchased at Hooters.com/hooters-girls/calendar/. For more information about the Hooters #GiveAHoot fundraising campaign, visit Hooters.com/Give. Follow Hooters at twitter.com/hooters, facebook.com/hooters and instagram.com/hooters.
To find your nearest Hooters location, visit Hooters.com.